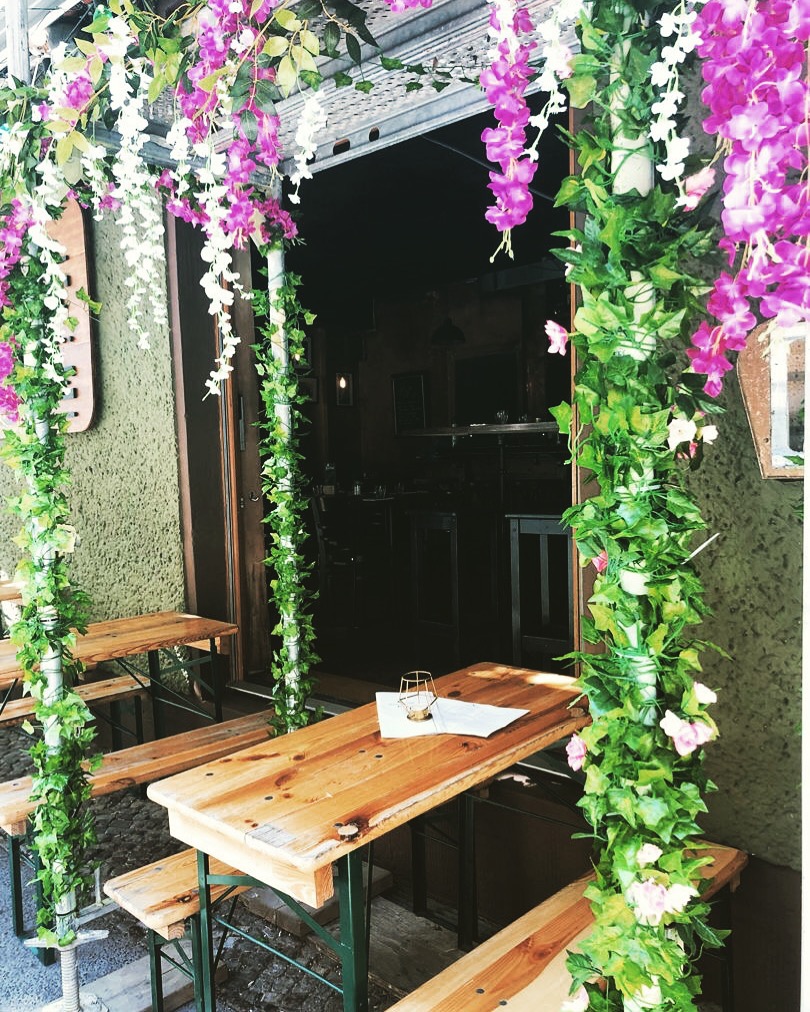 Walk ins are always welcome at Salt n Bone, we keep our bar seats free from reservations. We recommend to give yourself enough time to have a drink and build up an appetite and our team will seat you as soon as they can.
Group Reservations
For Parties above ten guests we do not accept your reservation via Opentable but we are glad to cater for large parties.
To get organising please contact us by Email reservations@saltnbone.de or Call us
OUR CHRISTMAS PARTY PACKAGE FOR 2019 IS NOW AVAILABLE, PLEASE EMAIL US TO GET THE PARTY STARTED…
BEER
BELOW YOU WILL FIND OUR BOTTLE SELECTION, WE ALSO HAVE SIX ROTATING TAPS OF LOCAL CRAFT BEERS FROM BERLIN, AND GERMANY
Press & reviews
We would like to take this oppertunity to thank all the press who have mentioned and reviewed Salt n Bone, and for all our guests who have left their experiences for us.
Vogue.de
"Im "Salt n Bone" gibt es ungefähr alles, was das Fast-Food-Herz begehrt: Burger, Wings, Ribs, Sandwiches, Fish and Chips – also einmal um die ganze Welt (es gibt sogar einen koreanisch angehauchten Burger). Und das zusammen mit soliden Drinks und einer großen Bier-Auswahl!" - Vogue.de June 2018
http://www.vogue.de/lifestyle/artikel/ausgeh-tipps-berlin-restaurants-bars-clubs
Awesome Berlin
https://awesomeberlin.net/bars/salt-n-bone-gastrobar/prenzlauerberg
"SALT N BONE definitely has a welcoming vibe. The wooden design elements give it that cozy and warm feel. That "at home" feel that only a handful of places successfully deliver. Couple that with efficient and friendly service and you get one of our favorite "hang out" bars in Berlin. The crowd is mixed, casual and friendly."
KITCHEN HOURS
Mon - Fri 6pm–11pm
Sat 5pm–11pm
Sun 5pm–10pm
BAR HOURS
Mon-Fri 6pm–Open End
Sat 5pm– Open End
Sun 5pm–11pm
Phone
Schliemannstrasse 31
10437 Berlin
Prenzlauer Berg
U Bahn Eberswalderstrasse
S Bahn Prenzlauerallee
WE ARE ALWAYS LOOKING FOR THE BEST!
Impressum
Verantwortlich im Sinne von § 5 TMG:
Rebecca Lynch
Schliemannstrasse 31, Berlin 10437
Tel. 030 9144 8885
Email accounts@saltnbone.de
www.saltnbone.de
Umsatzsteuer-Identifikationsnummer: 131/428/ WV
1. Haftungsbeschränkung
Die Inhalte dieser Website werden mit größtmöglicher Sorgfalt erstellt. Der Anbieter übernimmt jedoch keine Gewähr für die Richtigkeit, Vollständigkeit und Aktualität der bereitgestellten Inhalte. Die Nutzung der Inhalte der Website erfolgt auf eigene Gefahr des Nutzers. Namentlich gekennzeichnete Beiträge geben die Meinung des jeweiligen Autors und nicht immer die Meinung des Anbieters wieder. Mit der reinen Nutzung der Website des Anbieters kommt keinerlei Vertragsverhältnis zwischen dem Nutzer und dem Anbieter zustande.
2. Externe Links
Diese Website enthält Verknüpfungen zu Websites Dritter ("externe Links"). Diese Websites unterliegen der Haftung der jeweiligen Betreiber. Der Anbieter hat bei der erstmaligen Verknüpfung der externen Links die fremden Inhalte daraufhin überprüft, ob etwaige Rechtsverstöße bestehen. Zu dem Zeitpunkt waren keine Rechtsverstöße ersichtlich. Der Anbieter hat keinerlei Einfluss auf die aktuelle und zukünftige Gestaltung und auf die Inhalte der verknüpften Seiten. Das Setzen von externen Links bedeutet nicht, dass sich der Anbieter die hinter dem Verweis oder Link liegenden Inhalte zu Eigen macht. Eine ständige Kontrolle der externen Links ist für den Anbieter ohne konkrete Hinweise auf Rechtsverstöße nicht zumutbar. Bei Kenntnis von Rechtsverstößen werden jedoch derartige externe Links unverzüglich gelöscht.
3. Urheber- und Leistungsschutzrechte
Die auf dieser Website veröffentlichten Inhalte unterliegen dem deutschen Urheber- und Leistungsschutzrecht. Jede vom deutschen Urheber- und Leistungsschutzrecht nicht zugelassene Verwertung bedarf der vorherigen schriftlichen Zustimmung des Anbieters oder jeweiligen Rechteinhabers. Dies gilt insbesondere für Vervielfältigung, Bearbeitung, Übersetzung, Einspeicherung, Verarbeitung bzw. Wiedergabe von Inhalten in Datenbanken oder anderen elektronischen Medien und Systemen. Inhalte und Rechte Dritter sind dabei als solche gekennzeichnet. Die unerlaubte Vervielfältigung oder Weitergabe einzelner Inhalte oder kompletter Seiten ist nicht gestattet und strafbar. Lediglich die Herstellung von Kopien und Downloads für den persönlichen, privaten und nicht kommerziellen Gebrauch ist erlaubt.
Die Darstellung dieser Website in fremden Frames ist nur mit schriftlicher Erlaubnis zulässig.
4. Datenschutz
Durch den Besuch der Website des Anbieters können Informationen über den Zugriff (Datum, Uhrzeit, betrachtete Seite) gespeichert werden. Diese Daten gehören nicht zu den personenbezogenen Daten, sondern sind anonymisiert. Sie werden ausschließlich zu statistischen Zwecken ausgewertet. Eine Weitergabe an Dritte, zu kommerziellen oder nichtkommerziellen Zwecken, findet nicht statt.
Der Anbieter weist ausdrücklich darauf hin, dass die Datenübertragung im Internet (z.B. bei der Kommunikation per E-Mail) Sicherheitslücken aufweisen und nicht lückenlos vor dem Zugriff durch Dritte geschützt werden kann.
Die Verwendung der Kontaktdaten des Impressums zur gewerblichen Werbung ist ausdrücklich nicht erwünscht, es sei denn der Anbieter hatte zuvor seine schriftliche Einwilligung erteilt oder es besteht bereits eine Geschäftsbeziehung. Der Anbieter und alle auf dieser Website genannten Personen widersprechen hiermit jeder kommerziellen Verwendung und Weitergabe ihrer Daten.
5. Besondere Nutzungsbedingungen
Soweit besondere Bedingungen für einzelne Nutzungen dieser Website von den vorgenannten Nummern 1. bis 4. abweichen, wird an entsprechender Stelle ausdrücklich darauf hingewiesen. In diesem Falle gelten im jeweiligen Einzelfall die besonderen Nutzungsbedingungen.